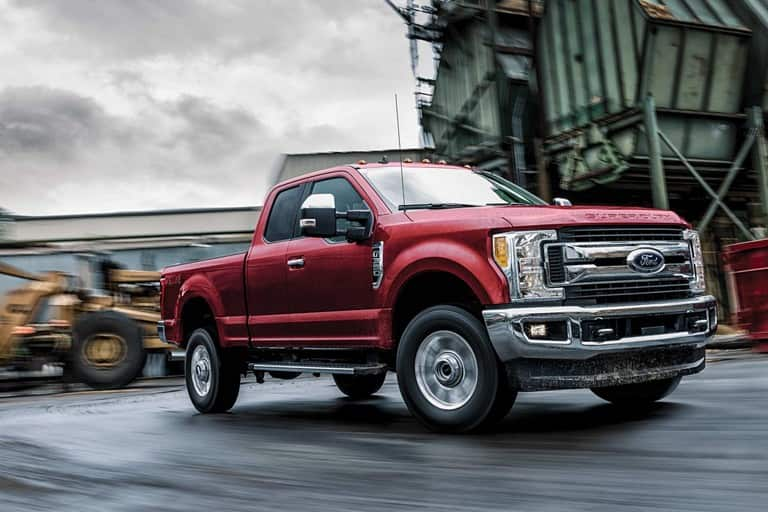 Are you looking for the best pickup truck on the market? When it comes to popularity, dependability, and overall track record and reputation, it's tough to beat the Ford F-Series. When Business Insider released its list of the top-selling pickup trucks in the United States for 2018, the F-Series easily topped everything else. And while the F-Series includes the beloved Ford F-150, our team at Glenn Polk Ford also loves (and loves selling) Ford Super Duty® trucks.
"Ford Super Duty" refers to the higher-end trucks in the Ford F-Series: the Ford F-250, F-350, and F-450. In terms of power, versatility, safety, truck bed payload, towing capability, and so much more, Ford Super Duty trucks are virtually unmatched on the market. Everything about these trucks—from the chassis to the suspension to the engine and beyond—has been built with big, heavy-duty applications in mind. If you love the look and reliability of the Ford F-150, but need something that can do a bit more, then the Ford Super Duty line is right for you.
The question, of course, is which truck to choose. The F-250, F-350, and F-450 all have over a ton of power and capability, and the "right" choice will ultimately depend on what applications you have in mind. For instance, in towing capacity, the F-250 will get you up to 15,000 pounds, while the F-350 tops out at 18,000 pounds and the F-450 delivers 21,000 pounds. Considering numbers and specs for each truck will help you decide which one to buy.
At Glenn Polk Ford, we can help you find the perfect pickup for you. We offer Ford Super Duty trucks for sale in Gainesville, including both brand-new models and used trucks that are still in spectacular condition. We can walk you through the specs for each car, get you behind the wheel of a few different models for test drives, and help you work out factors such as your budget. Our goal is to get you behind the wheel of a heavy-duty truck that will meet all your needs, but that you will still love to drive.
Our Ford truck dealership in Gainesville is the best place to learn more about the Ford Super Duty series and everything that makes it so beloved. To get started, stop by Glenn Polk Ford or get in touch with us directly.