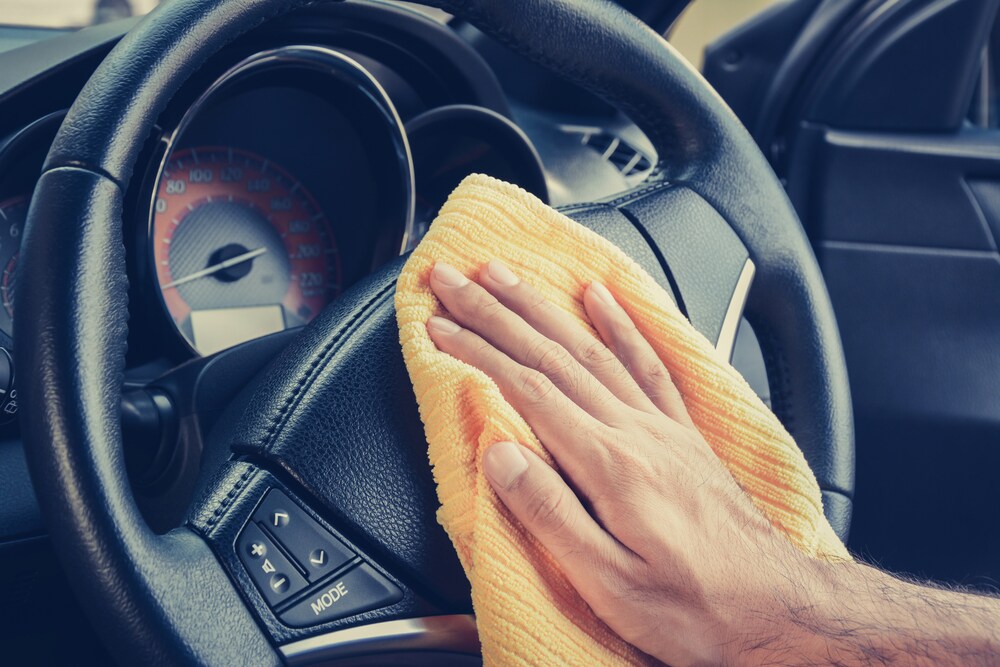 Can you feel it? The weather is warming up, the sun is out, the days are longer — spring is here!
There's nothing that makes us want to start tidying like the fresh air and beautiful weather. This year, take your spring cleaning one step further and take care of your car as well as your house or apartment. Just like your home, winter can take its toll on your car or truck. Here are some car cleaning tips from us at Glenn Polk Ford.
Exterior Car Cleaning Tips
The exterior of your car definitely deserves some love and attention after all it has been through during the winter. Icy roads covered in salt and below freezing temperatures can be hard on your vehicle. Here's how to clean the exterior:
Start with the body. The body of your vehicle is fairly easy to clean, although it does require a little elbow grease. A gentle hand wash is the best way to get your car clean without damaging the body paint. Make sure you reach for a car washing solution, not plain dish soap. Dish soap can leave a film on your vehicle, which is the last thing you want after you spend the time to clean it.
Use a soft towel with the car washing solution, then rinse your car with a bucket of clean water. Make sure you remove any excess water to prevent potential minerals or dirt from sticking to the vehicle. You can easily do this with a rubber squeegee and a microfiber cloth.
Make sure you clean the tires. Pay attention to your wheels and make sure they get a scrub as well. Remove hubcaps and rinse them in soapy water while you scrub the tires and wheel wells. Make sure you also check the tire pressure and tighten lug nuts too.
Wash your windows. It's time to get your windows and windshield crystal clear. While window cleaner may work for your home, it may be too harsh for your car windows. It is recommended that you use an ammonia-free cleaner along with a microfiber cloth to get a streak-free clean. Don't forget to roll down your window and wipe off the top as well!
Interior Car Cleaning Tips
The interior of your car can be cleaned fairly easily. Work your way from top to bottom so you don't get the floor of your car dirty after it's freshly vacuumed.
Wipe off the dashboard. Take a microfiber cloth with a specialty solution and wipe your dashboard and console. You can also use a fine-bristled brush to brush dirt and debris off before wiping clean.
Throw out trash. Dig around in the crevices of your vehicle enough, and you'll be sure to find gum wrappers, crumpled receipts or some other form of trash. Gather it all up and toss it out before wiping off the interior doors, cupholders and glove box.
Vacuum it up. Use your vacuum to suck up any debris and dirt from your floorboards. If you have a crevice tool, try using it in between seats and any other nooks you can find.
If you have purchased a vehicle from our used car dealership in Gainesville, you may be ready to personalize your car. Now might be the perfect time to complement your spring cleaning with accessories like new floor mats — click here to check out the selection from Glenn Polk Ford. Happy spring cleaning!