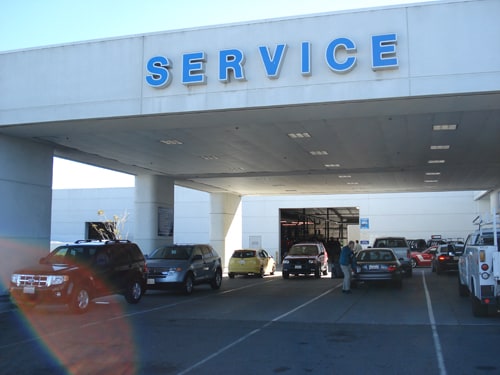 You already know Glenn Polk Ford is the best place to buy a new or used car in Gainesville, TX. But did you know that when it comes to keeping your vehicle in top running order, Glenn Polk Ford's service department has you covered there, too? From oil changes to transmission work, our highly qualified technicians are here to provide exceptional auto service in a timely and professional manner. Look no further than Glenn Polk Ford for car repairs in Gainesville.
The Importance Of Regular Vehicle Maintenance
Just like we need annual physicals and doctor visits to keep our bodies healthy, our cars, trucks and SUVs need regular auto service to keep them performing well. Purchasing a vehicle is an investment, and timely service and repairs will save you both money and peace of mind. Keeping your car up-to-date with scheduled maintenance helps avoid unexpected problems, which are both expensive and inconvenient.
Services We Provide
Looking for an oil change in Gainesville? Look no further. From brakes to mufflers, we handle it all. Here's a list of some of the services we provide at Glenn Polk Ford.
Adjust brakes: Brakes screeching? An adjustment will ensure your car brakes more smoothly and effectively.

Air conditioner repair: In Texas, there are few things worse than driving in a car with no air conditioner! Make sure your car will keep you cool throughout the year with an A/C service.

Balance tires: Driving wears the tread on your tires, creating an uneven, bumpy ride. Having your tires balanced regularly will prevent this.

Coolant flush: Just as your oil needs changing, so does your coolant. Let us flush the system and top you off with new fluids.

Engine tune-up: Make sure your engine is in tip-top shape and running efficiently with a tune-up.

Front-end alignment: Ensuring your front tires are aligned will provide a smooth ride and easy handling.

Oil change: We provide affordable, quick oil changes that will keep your engine purring.

Replace muffler: A muffler is named for its ability to muffle the noise coming from the exhaust of your car. If your ride suddenly gets a lot louder, it might be time to replace your muffler.

State inspection: The state of Texas requires a yearly inspection. So kill two birds with one stone and get your state inspection done along with your maintenance.

Transmission flush: Looking for transmission work in Gainesville? We've got you covered. Keep your transmission running with a flush.

Wash, wax and interior clean: We keep your car looking fresh too!

Other services: If the service you're looking for not on this list just let us know what you need and we'll find someone to help you.
For all your car repairs in Gainesville, Glenn Polk Ford's service department has you covered. We look forward to keeping you on the road.