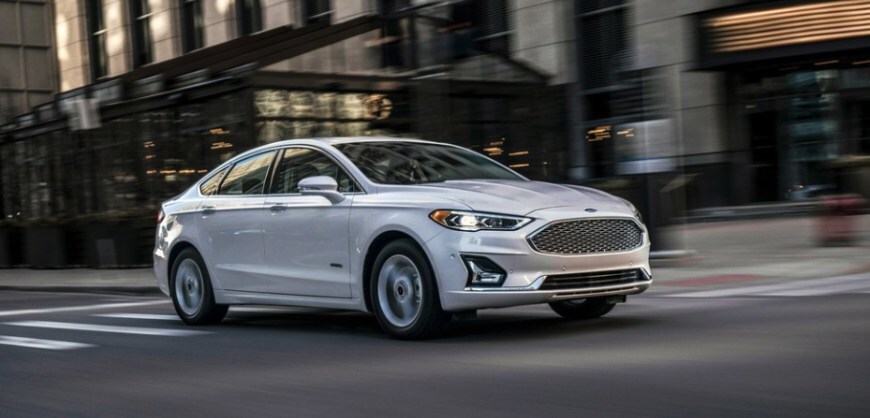 Tired of standing at the pump and paying hundreds of dollars for gas each month? Gas prices are unlikely to go down anytime soon, and for many buyers that leads them to look for a plug-in hybrid for sale in Gainesville, Texas. Here at Glenn Polk Ford, we stock several vehicles that fit the bill — but one we particularly recommend is the Ford Energi plug-in hybrid sedan.
What's more, the 2019 model is an improvement on its predecessor. According to U.S. News & World Report, Ford has made four significant changes to the Energi. Two of these revisions are brand-wide and affect all Fusions. First, the exterior styling for each model has received a facelift. Also, Ford's new Co-Pilot360TM technology now comes standard. This driver assist program provides advanced safety features such as auto high beam headlights, a lane keeping system, a rearview camera and a pre-collision warning system.
The other two changes are specific to the Energi itself. First, all three trims have been combined into one impressive model. More importantly, Ford's engineers have improved the Energi's lithium-ion battery pack, boosting its electric-only driving range from 21 to 25 miles.
This larger, more advanced battery makes the Energi more competitive with hybrid alternatives such as the Toyota Prius Prime, the Hyundai Sonata Plug-In Hybrid and the Kia Optima plug-in hybrid.
Sporting an impressive EPA estimated mpg of 109 city / 97 highway, your days of waiting in long lines at the pump will be over almost as soon as you sit behind the wheel of the Fusion Energi. What will you use those extra few hours a month for? The possibilities are endless!
If you are searching for a plug-in hybrid for sale in Gainesville and happen to be new to the world of electric cars, Ford provides some excellent reading material to help you make sure the Fusion Energi is the right fit for you. The automaker also offers advice on how to keep your car charged.
Want to find a Fusion Energi for sale in Gainesville? You can shop a great selection of fuel-efficient Ford cars, trucks and SUVs from the convenience of your own home by using our online car finder. If you don't see what you are looking for, just contact us. We'll get to work finding your dream automobile right away!
And, if you need financing options, we've got them. You can get pre-approved for your auto loan right here on our website without even stepping a foot into our showroom! How's that for convenience?
If you are looking for a Fusion Energi for sale in Gainesville, come see the electric and hybrid vehicle experts at Glenn Polk Ford. AS a family-owned and -operated dealership that's proud to serve the Texoma region, we look forward to serving your automotive needs.